After sustaining a sports injury, most patients are eager to return to their pre-injury level of sporting activities. But sometimes, sports injuries can be severe and can require a long time to heal. It is where the orthobiologics come into the picture. The term 'orthobiologics' refers to the use of biological substances to heal orthopedic injuries faster.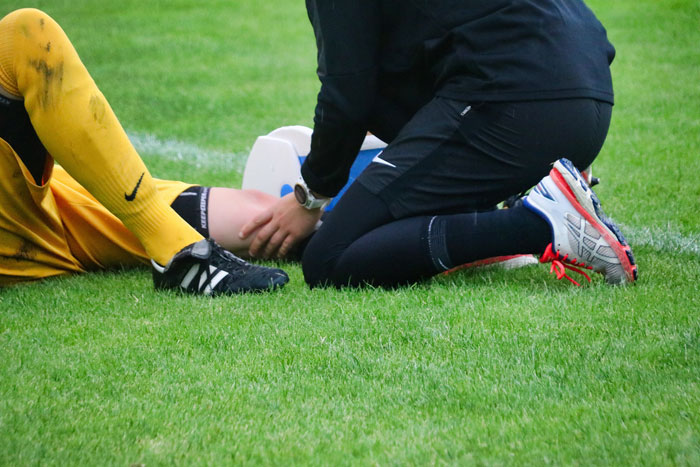 What are orthobiologics?
Orthobiologics include bone grafts, platelet-rich plasma (PRP), bone marrow aspirate, autologous serum, and stem cells. They are used to promote the healing of fractured bones, injured muscles, tendons, and ligaments.
Othobiologics can be of two types:
Autologous: The orthobiologic is extracted from the patient's own body.

For instance, platelet-rich plasma (PRP) is obtained from the patient's own blood.

Allogenic: The orthobiologic is extracted from a person other than the patient.
For example, stem cells are harvested from a matching donor.
What are the different types of orthobiologics?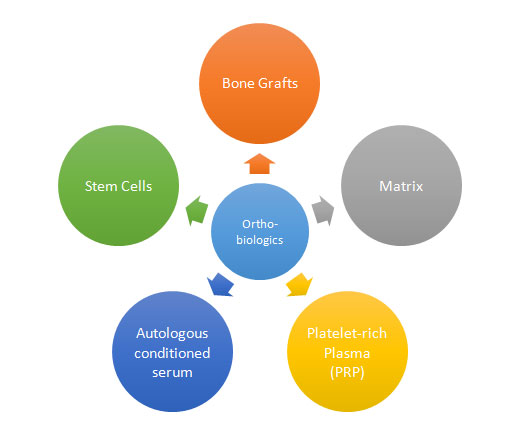 Bone grafts:
Bone grafts stimulate the formation of new bones by their osteoconductive and osteogenic properties. There are two types of bone grafts - autograft and allograft.
Autograft - The bone graft derived from the patient is known as an autograft. It is usually obtained from the patient's iliac crest (pelvis).
Allograft - The bone graft is obtained from a cadaver through a bone bank. However, the allograft does not contain any living stem cells and thus requires the external addition of growth factors.


Matrix Material:
Matrix made of calcium phosphate can be used to fill large spaces between bones. This matrix can provide housing for stem cells to grow and mature into different cells, such as bone, muscle, tendon, cartilage, etc.
Both matrix and allograft are preferred over autograft as they do not cause any pain and don't require extra surgery.


Platelet-rich Plasma (PRP):
Plasma is the liquid part of the blood. It is composed of water and proteins and acts as a medium for red blood cells (RBCs), white blood cells (WBCs), and platelets. Platelets, also known as thrombocytes, are blood cells that promote blood clots and promote natural healing. Platelet-rich plasma (PRP) can accelerate the healing of injured tendons, ligaments, muscles, and joints.



Autologous conditioned serum (ACS):

Autologous conditioned serum (ACS) has proven effective in treating various orthopedic conditions such as knee osteoarthritis and lumbar radiculopathy. It is prepared by incubating blood in 5% carbon dioxide (CO2) for 24 hours. After incubation, the blood is centrifuged to obtain ACS. However, human studies involving the use of ACS are limited, and further research is required.

Stem cells:
Stem cells are specialized cells that can self-renew and differentiate into different types of cells. Mesenchymal stem cells (MSCs) are used to treat orthopedic conditions. These stem cells can be isolated from bone marrow, adipose tissues, synovial membrane, etc. However, bone marrow is the most common source. Stem cells can be obtained from the patient's own body (autologous ) or obtained from a matching donor (allogenic). Stem cells are highly effective in treating orthopedic conditions and can promote natural healing.
What is the future of orthobiologics?
Researchers are developing newer orthobiologics every day. For instance, scientists are trying to create a bone glue that can fuse bones and promote healing. However, further studies are required before bone glue can be commercially available. The currently available orthobiologics such as platelet-rich plasma and stem cells have great potential.
Orthobiologics provide significant advantages such as:
Promotes natural healing
Easy processing and availability
Cost-effective
Quicker process
Minimally-invasive
Thus, orthobiologics have provided a vast array of options to treat musculoskeletal disorders.