As per the latest post-COVID-borne concern, a few cases of Avascular Necrosis (AVN) have been reported in patients of the age group 30-50. This new condition takes some time to show the impact in joints, it may be somewhere between three months to one year. For this reason, experts have already warned the COVID patients to not ignore joint aches, specifically in the shoulders and hips.
What is
Avascular Necrosis
(AVN)? What causes AVN after COVID?
Avascular Necrosis (AVN) is a steroid-induced condition of death (necrosis) of bone tissue because of lack of blood supply. High dose steroids taken for life saving conditions in covid & non covid situations, soften the bone, and can cause tiny breaks in the bone, or joint dislocation; gradually causing the bone or cartilage to collapse, which interrupts or reduces blood supply too.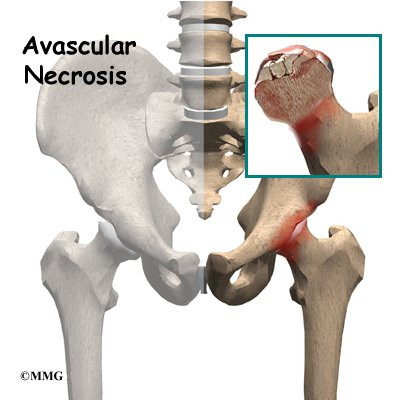 (Image adapted from https://www.concordortho.com/patient-resources/patient-education/topic/398ba8c2f7e7ebd2a5008a54fb2f06de)
Avascular Necrosis (AVN) might not show any symptoms in the early stages; however, as time passes, the affected joint starts to feel the hurt as some weight is put on it, eventually also when lying down. Pain is usually gradually developed and may be mild or severe.
AVN may cause swelling & infection, stiffness of joint, joint deterioration, & severe immobility. Pain areas of Avascular Necrosis are hip, groin, thigh or buttock, knee, foot; and may also affect shoulder & hand. The condition might also develop bilaterally, in both sides, such as both knees, or both hips.
Untreated Avascular Necrosis (AVN) Complications
The delay in treatment of AVN may worsen the condition with time. In case of untreated condition, sooner or later, the bone may also collapse. Avascular Necrosis may result in bone to suffer the loss of its smooth shape, with a tendency of severe arthritis.
Go for the Permanent Solution to Treat AVN with OSSGROW Bone Cell Therapy
The treatment of AVN after COVID is possible through surgical methods only; there are no medications available; some Doctors do prescribe bisphosphonates, but these do not cure the condition and only help in delaying its severity.
OSSGROW® is a bone cell therapy from Regrow Biosciences. It is the world's only approved therapy to treat AVN. OSSGROW® has also completed phase 3 clinical trials in India and the product has received approval in 2017 from Indian FDA and DCGI for commercial use. OSSGROW® is also recognized by USFDA and European medicine agencies as a potential treatment for AVN.
OSSGROW® for AVN is available across 200 hospitals and 45 cities in India. It is insurance approved also. Over 1000 patients have already been benefited with OSSGROW Bone Cell Therapy so far.
OSSGROW® is a permanent, effective, successful & natural treatment for AVN. Besides this, there are several major essential advantages of OSSGROW Bone Cell Therapy for patients suffering from AVN after COVID:
Stops the progression of AVN disease.
Forms new & healthy bone.
Restores mobility; enhances ability to resume active, pain-free & normal life.
Preserves original hip joint; eliminates need of the highly invasive total hip replacement surgery
Regrow Biosciences
Regrow Biosciences, Pioneer in India, & Leader in Asia is a leading biotechnology organization, focused on enhancing human healthcare by offering most advanced & innovative regenerative medicine-based solutions including OSSGROW bone cell therapy and tissue & organ development treatments.