The tube that carries urine from the bladder to the outside of the body is called the urethra. Scarring & narrowing of this tube is known as urethral stricture. The female urethra (3 to 4 cm) is much shorter than males (15 to 20 cm). A urethral stricture restricts the urine flow and can lead to several medical conditions, such as urinary tract infection or inflammation. Swelling, injury, cancer, long-term use of catheters, and surgery are the major causes of urethral stricture.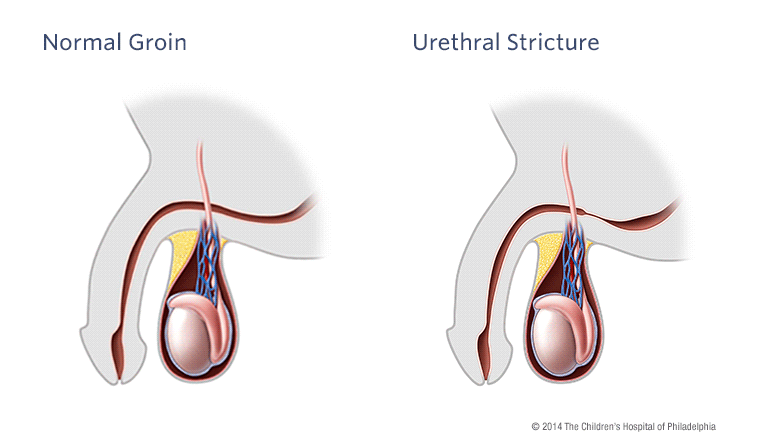 (Image adapted from Children's Hospital of Philadelphia)
Fig.1. Urethral Stricture in Males
Urethral Stricture Symptoms
The urethral stricture symptoms are as follows:
Bloody or dark urine
Poor & interrupted urinary stream
Loss of bladder control, partial emptying of the bladder
Spraying of the urine stream
Pain, straining, burning, & difficulty while urinating
Dribbling, more-frequent urination, or heightened urge to urinate
UTI (Urinary Tract Infection), painful urine retention
Blood in semen, swelling of the penis
Severely restricted or decreased urine flow for a long time can lead to kidney damage.
Sometimes, the condition may not present any symptoms, and it may be accidentally diagnosed while inserting a catheter (urine tube).
What Could Cause Urethral Stricture?
The causes of urethral stricture are as follows: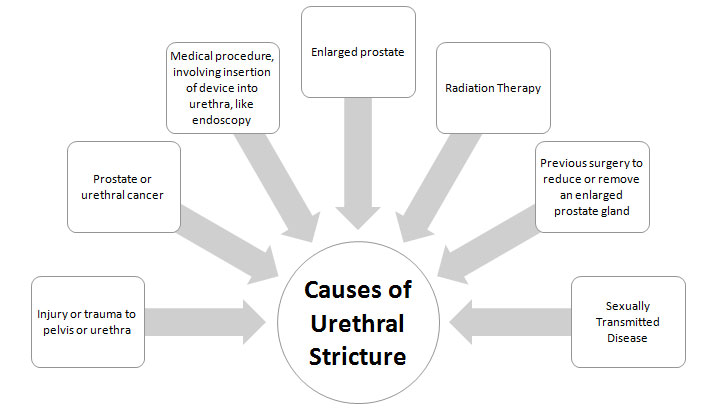 The tests that could help in the diagnosis of urethral stricture are physical examination, urethroscopy, urethral imaging, retrograde urethrogram, etc.
Urethral Stricture Treatment
The common urethral stricture treatments are:
Dilatation: Stricture widening;
Urethrotomy: Fibrous tissue opening by endoscopic surgery;
Urethroplasty: Usage of suturing & large buccal grafts (10 cm) at stricture site through open surgery.
However, these treatments have certain drawbacks such as:
Painful and highly invasive procedure
Higher risk of infection and disease recurrence
Irreversible damage to the entire urinary tract,
Can lead to sexual erectile dysfunction,
Longer recovery time
Decreased quality of life
Societal Taboo
UREGROW ® Epithelial Cell Therapy by Regrow Biosciences for Urethral Stricture Treatment
Another urethral stricture treatment is UREGROW® epithelial cell therapy. It is a natural & biological treatment for urethral stricture. It helps in restoring normal urine flow & sexual function, thus improving the quality of life.
UREGROW® for Urethral Stricture Treatment uses autologous (patients' own cells) as a therapeutic tool to cure urethral stricture. The treatment process involves buccal cells extraction from the inner cheek, followed by multiplication & implantation of epithelial cells. Implantation of epithelial cells regenerates the epithelial layer at the site of stricture and relieves the symptoms.
Regrow Biosciences, Pioneer in India, & Leader in Asia, is a prominent biotech organization. It aims to enhance human healthcare by offering the most advanced & innovative regenerative medicine-based solutions, including UREGROW® epithelial cell therapy and treatment for tissue & organ development.
Visit: https://www.regrow.in/uregrow-for-urethral-stricture
For more details https://www.regrow.in/