After-effects of Covid-19
Covid-19 has left long trailing effects such as headache, muscle pain, chest pain, concentration and memory problems, sleep disorders, joint pain, mucormycosis, chronic fatigue, new-onset diabetes, and blood clots.1 Of late, the rapidly rising one is Osteonecrosis or Avascular Necrosis (AVN).
Read further to learn more about AVN condition, its signs & symptoms, and treatment options.
Avascular Necrosis (AVN): Covid-19 After-effect
In simpler terms, Avascular Necrosis (AVN) can be explained as the death of bone tissue caused by temporary or permanent loss of blood supply. AVN existed even before the onset of COVID-19.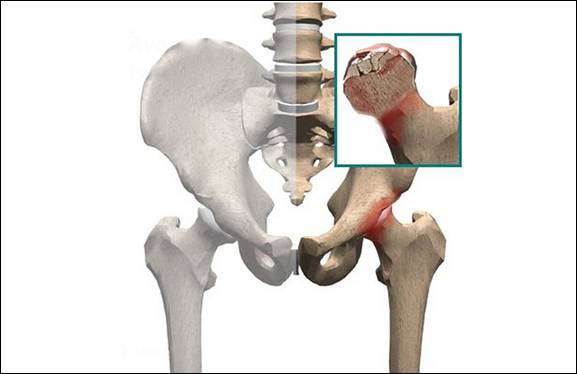 Fig.1. Avascular Necrosis (AVN) of Hip Joint
Majorly, the ends of a long bone are affected leading to tiny breaks resulting in the eventual collapse of the bone. Any number of bones can get affected at any number of times.
AVN is a degenerative disease. The bone or joint affected can deteriorate rapidly. Hence, AVN treatment must begin in the early phase of the disease.
Signs & Symptoms of Avascular Necrosis (AVN)
The initial stages of Avascular Necrosis (AVN) are usually pain-free and present no symptoms. However, as AVN worsens, the person may feel pain while walking or when weight is placed on the affected joint. Gradually even sleeping or lying down could be painful. The pain caused due to AVN can hamper mobility, and patients may find it difficult to walk and may end up limping.
Avascular Necrosis (AVN) is categorized into four stages: Stage I, II, III, and IV.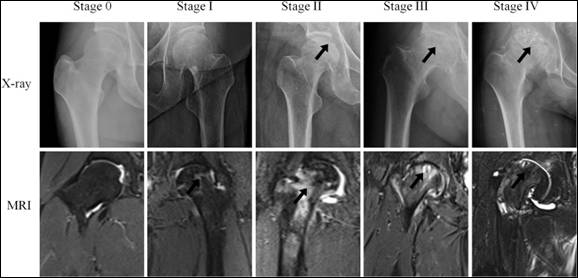 Image Source: https://doi.org/10.1016/j.jot.2014.12.002.
Fig.2. Stages of Avascular Necrosis (AVN)2
Stage I: It can be detected by MRI (Magnetic Resonance Imaging) & bone scans. It is the initial stage of AVN.
Stage II: Diagnosis requires X-rays. Bone starts collapsing by the time the condition reaches the next stage.
Stage III: In this stage, the condition requires immediate medical assistance. If left untreated, it could proceed to the next and final stage.
Stage IV: It is the final stage of AVN. The patient would require hip replacement surgery to prevent total bone collapse.
Avascular Necrosis (AVN) Treatment Options
Allowing the initial stages of AVN to pass without taking any action is like missing the train while it is right in front of you and can still be boarded. At the later stages, hip replacement is a common and trendy option, but the surgery is not an easy call to take, considering the risks and amount of post-surgery care associated with it.
Since AVN is most common in the hip region, experts recommend Stem Cell Therapy: one of the recent & most popular advancements in medical therapies.
Stem Cell Therapy can help the person resume a pain-free, normal, & active life by halting the progression of the disease.

OSSGROW ® Bone Cell Therapy by Regrow Biosciences: Permanent AVN Treatment
Regrow Biosciences, Pioneer in India, & Leader in Asia is a prominent biotech company. It aims to enhance human healthcare by offering the most advanced & innovative regenerative medicine-based solutions, including OSSGROW® Bone Cell Therapy for the treatment of Avascular Necrosis.
OSSGROW® Bone Cell Therapy uses the patients' own cells (autologous) as a therapeutic tool to cure AVN. It is a permanent and safe treatment for AVN.
Key benefits of OSSGROW® bone cell therapy include:
Natural treatment - uses patients' own cells
Patient resumes active, pain-free & normal life
Eliminates the need for highly invasive Total Hip Replacement Surgery
Highly effective & successful treatment of AVN with a long-term follow-up of 10 years.
More than 600 patients have been successfully treated with OSSGROW® bone cell therapy.
For further details:
Visit: https://www.regrow.in/ossgrow-for-avn
https://www.regrow.in/
References:
Agarwala SR, Vijayvargiya M, Pandey PAvascular necrosis as a part of 'long COVID-19'BMJ Case Reports CP 2021;14:e242101.
Xin-Hui Xie, Xin-Luan Wang, Hui-Lin Yang, De-Wei Zhao, Ling Qin, Steroid-associated osteonecrosis: Epidemiology, pathophysiology, animal model, prevention, and potential treatments (an overview), Journal of Orthopaedic Translation, Volume 3, Issue 2, 2015, Pages 58-70, ISSN 2214-031X, https://doi.org/10.1016/j.jot.2014.12.002.